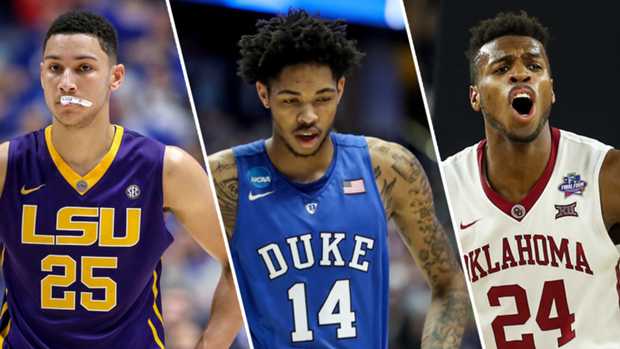 Draft 2016. So….underwhelming. Outside of the no-brainer #1 pick, there's precious little to get excited about. The Blazers being sans pick only adds to my sense of ennui. Nevertheless, here is my rambling analysis of some prospects in a range where you could reasonably expect the Blazers to nab a pick, vaguely listed from worst to best.
Joel 'Bologna Boy' Bolomboy is an athletic, tenacious player who can score but is raw otherwise well into his 22nd year of existence. Perhaps the Weber State connection puts him on our radar, but I doubt he's an NBA player. Ben Bentil and Robert Carter fit a similar mold.
As program pedigree and national notoriety dictate,  Tyler Ulis is slated to go around 25 spots higher than Kay Felder. This is all business as usual – only problem is there's a decent argument to be made that Felder is the better player, has the stronger frame and is the one with the requisite stupid athleticism required for waterbugs to make it in the league.
Caris LaVert and Gary Payton II are guys with a lot of talent who may both end up undrafted. For LaVert, medical reports on his foot will probably determine whether he's a 2nd round pick up or a Summer League roster invite. Ignoring that caveat, LaVert is a fun prospect – a talented passer who takes care of the ball and can really stroke it. His best case might look something like current Shaun Livingston with a 3 ball – shooting over smaller guards on offense and providing smart defense as a backup guard. Payton has the disadvantage of being really old for a draft prospect. His athletic fury and balls out style reminds me of a certain OKC guard and I feel like he could turn out to be what people thought Westbrook would be if he busted – a tweener guard who uses his athleticism to turn the screws on defense and create havoc in the open floor on offense. I'd like for the Blazers to take a flyer on Payton if they can buy a late 2nd rounder – he'd add something we lack.
AJ Hammons is even older than Payton and feels like a Hibbert clone coming out just as that type of big man is seeing a massive downturn in value. Damian Jones is more in the mold of the bouncy, rangy 7 footer that NBA front offices desire and is young enough that he could still justifiably have the unrealised potential tag attached to him. Recent surgery for a torn pec has him falling in the draft a tad – might be another flyer worth looking into for Olshey.
If a smarter, lower ceiling Meyers Leonard is what you're looking for, Stephen Zimmerman could be your man. He's versatile, can shoot some and is a smart and mobile defender but was mis-cast as a post player at UNLV. A former top HS recruit, Zimmerman could very well end up a solid rotation big – unlikely to be a home run prospect but represents decent value in the mid 2nd.
Guerschon Yabusele is a tank of a man. 6'8 and 270 pounds of muscle, Yabusele could get a draft day boost from stylistic similarities to Draymond Green. His 43% mark from deep in the French Pro 1 league last year won't hurt either. I think his lack of elite quickness and athleticism put him on a path to be more like a poor man's Boris Diaw than a store brand Draymond Green but that's nothing to sneeze at.
Following on from the Nuggets duo of Jokic and Nurkic, the Adriatic League big man prospects for 2016 are Ante Zizic and Ivica Zubac. At first glance, I see Zizic as the more advanced and solid prospect but Zubac has been racing up mock draft boards with whispers of upside as the wing beneath his wings. Zizic put up a 26 PER in the Adriatic League last season as a 19 year old and is a fluid and relatively explosive 7 footer works hard under the basket on both ends. Zubac is heavier, more ground bound but still moves well – his offensive ceiling is perceived to be higher but I'm not sure that makes up for the lack of production and athleticism compared to Zizic at a similar age.
Diamond Stone was on my radar as a prospect years ago – initially as the #1 rated HS recruit for his class, then as an undervalued talent as he slid down mock draft boards. Unfortunately, the Combine kinda killed any hype he had left for me – 6'10 (not the 7'0 he 'measured' at HS events), tiny hands, high body fat and poor standing and max vert results all point to him struggling in the NBA. Stone is a post game bully entering the pace and space NBA. Couple that with attitude and coachability question marks and I don't know if he survives.
Beyond these prospects, I think we'd be asking Olshey to give up more than he'd be willing to. If I had to guess at our most likely targets, I'd probably say Stephen Zimmerman as a Meyers reset and Gary Payton II to add some defensive punch to our backcourt rotation. As mid to late 2nd round guys, the cost to get them should be negligible and while the payoff likely won't be astronomical, both could move the needle at least a little. We all know how much Olshey enjoys a moved needle.