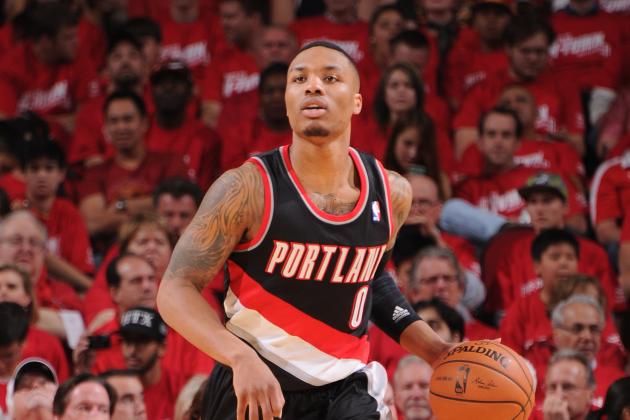 –
In an absolute classic, the Blazers came into a Toyota Center brimming with tense and nervous energy, socked Houston in the mouth then spent the next 40 minutes hanging on while the Rockets tried desperately to gain seperation and blast to a game 1 win. Instead, the Blazers stole the game in OT, on the back of an all-time great performance from LaMarcus Aldridge and an all-time great playoff debut for Damian Lillard. It changes the complexion of this series and gives Blazers fans some reason to hope that the 14 year first round duck might finally be broken.
From the outset there was an urgency and intensity to both teams' play that let you know this had the makings of a tight, tumultuous contest. There was certainly no hint that this team would wilt like the last time the Blazers met the Rockets in the playoffs. There did appear to be a risk that this game would serve as a microcosm of that series though – a lone star trying to put a team on his back while his teammates ride his coattails to an inevitable loss. LA came out firing, mixing it up inside and swatting shots in an inspired first quarter performance. Some solid but unspectacular guard play from Dame and Wes was his only support, but it was enough to carve out a 7 point lead on the back of some early bricklaying from Harden and Howard.
The 2nd quarter started a trend that would continue gamelong – Blazers starting out periods weakly before rallying to stay in the game. At one point the Rockets were outscoring the Blazers 24-6 in the second and in a game that lacked flow and shooting, Chandler Parsons was flowing all over the place and shooting the lights out. With the Rockets up 44-33, the game was poised on the precipice. The Blazers were only a few wasted possessions away from a disastrous blowout quarter, but instead they responded. It was a team effort, with all four starters contributing to a 13-2 run that brought the Blazers back from the brink. Losing the quarter by 8 and entering the half down 1 strangely felt like a victory for Portland.
The Blazers again put themselves in a hole early in the 3rd quarter, going down by 13 in a manner of minutes. This time Batum sparked the resurgence, scoring 7 important points that kept Portland within striking distance. Meanwhile, Harden got his foul-drawing flow going and kept the Rockets heads above water, taking them into the 4th up 6.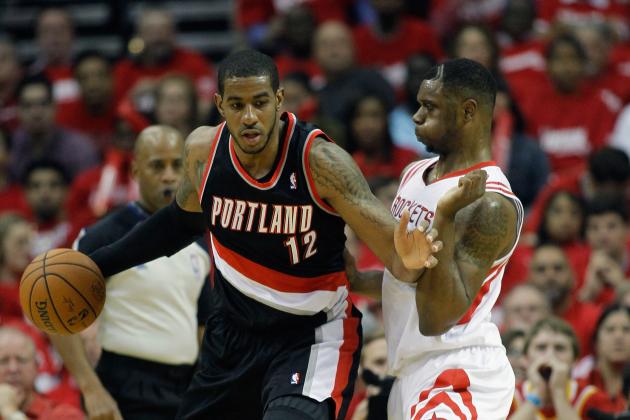 The 4th was a quarter of 2 halves. After 6 minutes, the Rockets were up 11 and looked headed for a solid first up victory. Coach Stotts decided it was time to mix things up and played Hack-a-Dwight for the next few minutes, an effective strategy (for once) that brought the Blazers back within 5. During this run and from here on out, the game turned into a battle between both teams' stars. Harden and LA started throwing in jumpers, Dwight and Dame did damage from the FT line. With his team down 3 and less that 30 seconds left on the game clock, Dame did what he has so often does and nailed a deep, top of the key trey to tie the game up. That was dramatic enough, but after a pair of Harden FTs it looked like the Blazers were still headed for a heart-breaking loss. A Wes clanked jumper and 2 tips later, we were headed to OT with a tremendous comeback complete.
With all the momentum and the Rockets inevitably disappointed not to be back in the locker room, surely OT was primed for the Blazers to stake their claim and steal the game once and for all. They went a funny way about it. Down 6 after a couple of three point plays by Dwight and Lin, back to back threes by LA and Nic brought the Blazers level again. Both sides traded blows and lost players as LA, RoLo, Beverley and Dwight all fouled out in the final 2 minutes. The telling blow ended up being a beautiful baseline three point play by Dame, punishing Beverley and removing him from the game only a play after being vicously blocked. It was emblematic of the spirit of the Blazers in this contest, not allowing themselves to get knocked down and out in situations that would have defeated a lesser team. This was a most unexpected result in a game full of improbabilities, leaving a drained crowd to question whether this series will be as easy as they'd thought and a Rockets team wondering how they managed to let a game they led for so long slip away.
Box | Gameflow | Highlights | LA | Dame
 
Notes
– At halftime, the Rockets had shot 0 FTs and the Blazers had made 1 shot from distance. Both corrected over the rest of the game but nevertheless, it was odd to see.
– Both sets of fans took the referees to task and rightly so, but for the wrong reasons. The issue wasn't a bias for either team, it was general incompetance. Fixing how games are called, particularly in the closing minutes, needs to be an early emphasis of Adam Silver's reign as commisioner.
– With about 1:15 left in regulation Mo had the ball out top and looked like he might start doing Mo things. Dame made sure that didn't happen, walking up and demanding the ball. Nothing came of the possession but it was good to see, especially when Stotts insists on going with lineups including Mo and Dame late in games.
– Dorell Wright and the bench in general had an entirely negative impact on this game, but this play was pretty sweet (GIF care of @BenGolliver) –
– James Harden seriously needs to do some manscaping. He's giving beards a bad name right now.
On to game 2, where my attitude would be…