Team Records: Oklahoma City (18-5) at Portland (14-10)
Game Info: 7 p.m., TV on CSNNW/NBATV, Radio on 750 the Game
Vegas Line: OKC -1
Refs: Scott Foster, Eric Lewis,  Matt Myers
The Skinny: Fresh off a franchise-record 9 3 threes by Nicolas Batum in their win over Denver on Saturday, the Blazers welcome their second straight division opponent to the Rose Garden. They might be without the services of PG Raymond Felton, who suffered a sprained foot and is listed as questionable. The Thunder come in having lost their last game in San Antonio, buried under a 42-point barrage by the Spurs' Tony Parker.
Last time they met: The Blazers scored what is to date their only impressive road win of the year, beating the Thunder in perhaps their most complete game of the season. Aldridge tallied 30 points and Gerald Wallace recorded a double-double in the win. The Blazers held Durant to 19 points on 8/22 shooting in the win.
Projected Thunder Lineup: 
PF: Serge Ibaka (Congo, 3rd season) – 7.4 PPG, 6.8 RPG, .5 APG
SF: Kevin Durant (Texas, 5th season) – 26.8 PPG, 8.3 RPG, 3.2 APG
C: Kendrick Perkins (Clifton J. Ozen (HS), 9th season) – 4.6 PPG, 5.4 RPG, .7 APG
SG: Daequan Cook (Ohio State, 5th season) – 5.3 PPG, 2.5 RPG, .2 APG
PG: Russell Westbrook (UCLA, 4th season) – 21.7 PPG, 4.7 RPG, 5.7 APG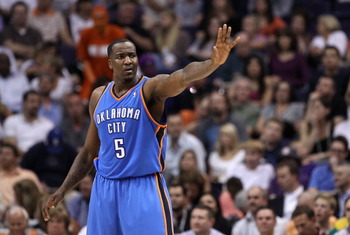 Player to Watch: Kendrick Perkins (pictured at right) – Perkins is not, and probably never will be, the best player on any team he is on at this level, but he is arguably one of the most important. Perkins is best known as a very strong post defender with a mean streak who seemingly takes every basket scored on him as a personal affront. He sets very tough screens on offense, sometimes too tough, causing him to commit more than his share of offensive fouls. His offense is limited, but he is smart enough to only take shots he feels confident making close to the basket. His rebounding has taken a substantial dip this season (he is recording 8.2 rebounds per 40 minutes this year, down from a career average in the 11-12 rebounds per 40 range), and it's hard to figure why. Finally, he plays with passion at all times and gets into it with refs (or other players as he did late in Portland's win over OKC last month) on a fairly regular basis. If he can keep those emotions in check, he is a very good post defender if nothing else.
Did You Know?: Daequan Cook won the 2009 Three-Point Shootout, ending Jason Kapono's two-year winning streak.
Injury Updates:
Portland: Out – C Greg Oden (knee), Doubtful – PG Raymond Felton (foot)
OKC: Out- PG Eric Maynor (ACL), Questionable – SG Thabo Sefolosha (foot)
Re-Evaluating OKC: The Dynamic Duo
There is no question that the Thunder rise and fall as a team on the play of their two stars, Kevin Durant and Russell Westbrook. Scoring a combined 49.6 points per game last season, the duo ranked behind only LeBron James and Dwayne Wade, who scored 52.6 per game last year. This year, it is much of the same as they have combined to score an impressive 48.5 points per game so far this year, which is actually a slightly higher percentage of their team's offense this year due to the lower scoring output they and the rest of the NBA have seen this year. When they are on, the Thunder are tough to beat. Ironically, they actually score slightly more in losses (52.4 points) than in wins (47.3 points) but do so at a much lower efficiency in losses, particularly for Durant, who shoots 52.6% in wins and 46% in losses. Whatever the case, if you can make them inefficient, you have a far better chance of beating OKC.
The Bottom Line:
Portland wins if: They out-rebound OKC. One of the major barometers to OKC's success is their rebounding. When they outrebound teams, they are virtually impossible to beat, sporting a 9-1 record (the lone loss coming to the Clippers, one of the worst rebounding teams in the league) while they are only 9-4 when they fail to outrebound an opponent. If Portland can control the boards and keep OKC from getting easy second chance points or fast break buckets off defensive rebounds, they should be able to prevail.
Oklahoma City wins if: They hold Portland to under 45% shooting. The Thunder rely primarily on defense to win games, and when they successfully hold opponents under 45%, they almost  always win. If they can do this against Portland, it's hard to see them losing their second straight.