Remember, PWE Meetup Tonight at Grand Central! Details here.
Team Records: Portland (3-1) at Oklahoma City (5-1)
Game Info: 5 p.m., TV on CSNNW, Radio on 95.5 the Game
Vegas Line: OKC -4.5
Refs: Mike Callahan, Courtney Kirkland, Olandis Poole
The Skinny: The Blazers look to end their quick two game road trip with a win over the NW Division favorite, the Oklahoma City Thunder. The Thunder are coming off of their first loss of the year last night at Dallas, while the Blazers are coming off their first loss of the year Sunday versus the LA Clippers. This is the sort of game Portland must win if they have any hopes of unseating OKC for the division title.
Last season: OKC won the season series 3-1. It was their first season series win over Portland since the team moved to OKC.
Projected Thunder Lineup: 
PF: Serge Ibaka (Congo, 3rd season) – 7.3 PPG, 6.3 RPG, .5 APG
SF: Kevin Durant (Texas, 5th season) – 27.3 PPG, 6.2 RPG, 3.5 APG
C: Kendrick Perkins (Clifton J. Ozen (HS), 9th season) – 6.3 PPG, 5.7 RPG, .7 APG
SG: James Harden (Arizona State, 3rd season) – 16 PPG, 6.2 RPG, 3.8 APG
PG: Russell Westbrook (UCLA, 4th season) – 16.3 PPG, 5 RPG, 4.8 APG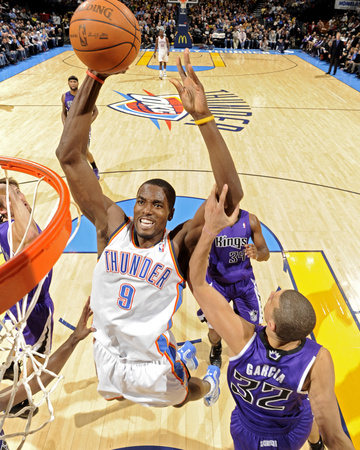 Player to Watch: Serge Ibaka (pictured at right) – I'll readily admit it, I really like watching Serge Ibaka play basketball. To me, he is the epitome of a player who makes the most of his given talent and plays hard every single game. Serge has come a long way in two seasons and is now one of the best interior defenders in the NBA. He leads the league in blocks per 40 minutes and seems to be in the right place in the right time on D. He also boasts an improving outside shot on offense. He still has plenty to work on, especially passing and dribbling, but given his improvement last year, it seems likely he will figure those problems out sooner rather than later.
Did You Know?: Nick Collison was co-winner of Iowa's Mr. Basketball award his senior season, sharing the award with future Kansas teammate Kirk Hinrich.
Injury Updates:
Portland: Out – C Greg Oden (knee)
OKC: Questionable – SG Daequan Cook (flu), SG Thabo Sefolosha (foot)
Oklahoma City's Game:
Miami and Boston may have their big three, but you would be hard pressed to see them as much better than OKC's big two of Westbrook and Durant. Although there has been some well publicized incidents suggesting the two may not be as close as once thought, nonetheless, when they are in sync, this duo is amazing to watch. Together, the two scored the second most points of any tandem last season (behind only James and Wade in Miami). Yet, the Thunder are more than just these two stars. They are a very good defensive team, especially after the Jeff Green trade brought Kendrick Perkins to OKC, where the Thunder addressed their biggest weakness – lack of a interior defense. On offense, they can struggle at times, especially late at games when Westbrook has a tendency to want to do it all on his own rather than pass to a teammate for a better shot. Still, if they can get their offense rolling, they are very tough to beat.
The Bottom Line:
Portland wins if: They hold Westbrook/Durant to under 40 combined points. This is not going to be easy, but when OKC's dynamic duo was held under the 40 point mark last season, they almost always lost. If Portland is to beat OKC on the road, they will have to make someone besides OKC's two best players do it.
Oklahoma City wins if: They hold Portland to under 45% shooting. The Thunder rely primarily on defense to win games, and when they successfully hold opponents under 45%, they almost  always win. If they can do this against Portland, it's hard to see them losing their second straight.