Team Records: Washington (6-22) at Portland (15-13)
Game Info: 7 p.m., TV on CSNNW/NBATV, Radio on 750 the Game
Vegas Line: Portland -15
Refs: Gary Zielinski, Mark Ayotte, Josh Tiven
The Skinny: After a frustrating double-overtime loss in Dallas, the Blazers might be at a turning point this season. With only a few games left before the All-Star break, Portland will look to leave a good taste in their mouths with one of the easiest opponents on the schedule, the Washington Wizards. The Wizards have been awful this year, and although they are coming off a road win over Detroit, are simply no match for any quality opponent 
Last Season: The Blazers split the season series with the Wizards with each team winning on their home court. Washington has lost six-straight in Portland.
Projected Wizards Lineup:
PF: Trevor Booker (Clemson, 2nd season) – 7.3 PPG, 5.2 RPG, .6 APG
SF: Chris Singleton (Florida State-Rookie) – 3.9 PPG, 3 RPG, .6 APG
C: JaVale McGee (Nevada, 4th season) – 11.6 PPG, 9 RPG, .5 APG
SG: Nick Young (USC, 5th season) – 17.3 PPG, 2.6 RPG, 1.2 APG
PG: John Wall (Kentucky, 2nd season) – 16.2 PPG, 5 RPG, 7.4 APG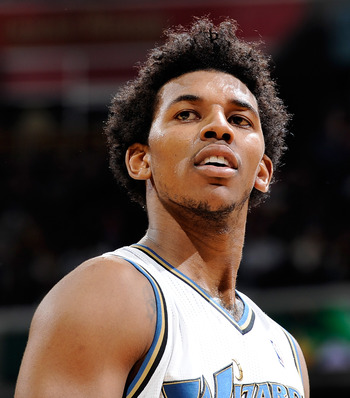 Player to Watch: Nick Young (pictured at right) – Nick Young is in many ways the very essence of the Washington Wizards. He cares about stats more than wins, doesn't pass, doesn't play defense and is a low efficiency scorer to boot.  Nick Young has one thought in his mind whenever he gets the ball on offense, and that is "shoot." Young has a decent if streaky jump shot that he can get off over almost any player. He doesn't attack the basket much, even when he plays well like he did Saturday versus Detroit, he had only 2 of his 13 attempts inside the paint. As for defense, Young doesn't appear to believe in defense, seeing it mostly as an interim period between his jumpers. He can be streaky at times, but he is as likely to go 8-13 as he is to go 7-19. Young will have to be hot if the game is to remain close.
Did You Know?: Twice this season the Wizards have notched 13 assists in the first quarter, but four times this year they have notched only 12 assists in a single game.
Song of the Day: New feature starting with today's game, each game will be matched with a song appropriate to the team/game. For today's game, it is the song "Magic Dance" by David Bowie from the 1986 cult classic Labyrinth. It pretty much describes the Wizards in that it is a good song by a good artist in the midst of what is mostly a bad movie.  Enjoy: 
Injury Updates:
Portland: Out – C Greg Oden (knee)
Washington: Out – C Ronny Turiaf (hand), PF Andray Blatche (calf)
Washington's Game:
Generally speaking, there are three types of bad teams – teams that are simply awful (think Charlotte), teams that are bad and boring (such as Toronto) and teams that are bad but entertaining. Washington is in that last category. The Wizards may not pass the ball, play defense or rebound, but they can be counted on to produce at least a few highlight plays per game. Most of these are the result of John Wall passes or Javale McGee blocks or dunks. They come at the most random times, and unlike most teams, where big plays like that might spur a run, they are but blips in their otherwise awful play. Outside of wins versus OKC and Detroit, the Wizards are 4-0 versus Charlotte and Toronto and 0-22 versus anyone else. If you jump on the Wizards early, they will indeed pretty much turn most of the rest of the game into a dunk/three-point shooting contest, not entirely a bad thing for the fans that forked over their hard earned cash to watch them play. 
The Bottom Line:
Portland wins if: They deliver an early knockout blow. Baring a complete disaster Portland is going to win this game, but with this being the first in a back-to-back-to-back, they should hopefully be able to put Washington away early. 
Washington wins if: They shoot at least 40 free throws. The only time the Wizards beat a team with a winning record this year was versus OKC a month or so ago. In that game, they were 31-43 from the line. They will have to come close to that to have any shot.