Team Records: Cleveland (4-3) at Portland (5-2)
Game Info: 6 p.m., TV on CSNNW, Radio on 750 AM the Game
Vegas Line: Portland -10.5
Refs: Bill Spooner, Derrick Collins, Scott Wall
The Skinny: Following a blowout loss on the road in Phoenix, the Blazers look to bounce back at home against one of the league's worst teams, the Cleveland Cavilers. The Cavs feature two of the top four picks in this year's draft, including the No. 1 overall selection, Kyrie Irving. The Cavs are off to a good start, although all their wins so far are against fellow teams not expected to make the playoffs. Portland is Cleveland's first opponent that had a winning record last season.
Last season: The Blazers swept the season series 2-0. It was Portland's first series win over Cleveland since 2002-03, the season before LeBron James was drafted.
Projected Cavaliers Lineup:
PF: Antawn Jamison (North Carolina, 14th season) – 17.9 PPG, 5.1 RPG, .7 APG
SF: Omri Casspi (Israel, 3rd season) – 6 PPG, 2.6 RPG, 1.6 APG
C: Anderson Varejao (Brazil, 8th season) – 9.3 PPG, 10.1 RPG, 1.6 APG
SG: Anthony Parker (Bradley, 9th season) – 7.4 PPG, 2.1 RPG, 2 APG
PG: Kyrie Irving (Duke, Rookie season) – 14.1 PPG, 3.9 RPG, 5.3 APG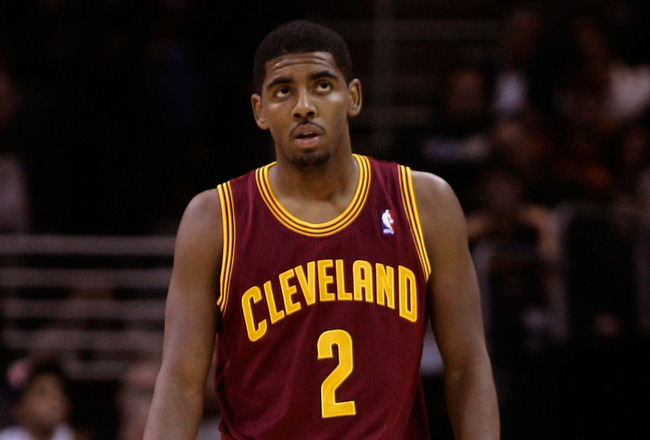 Player to Watch: Kyrie Irving (pictured at right) – Even with as weak of a draft as there ended up being last season due to the lockout, Irving was no slouch as the No. 1 overall pick. Despite only playing 11 games his only season of college due to an injury, Irving was seen as too good of a talent to let slide out of the top spot. Irving is pretty much a pure point – more of a distributor than a scorer – and his extra size compared to most point guards helps him on both ends of the court. He's off to a predictably rough start this season, shooting only 42% from the field but sporting a nearly 2-to-1 assists to turnover ratio. Once he settles into the NBA game, he may never be a star, but he will be a solid starting point guard for years to come.
Did You Know?: Cleveland was named the Cavaliers after a contest sponsored by the Cleveland Plain Dealer newspaper. The other finalists were "Jays", "Foresters" and "Presidents."
Injury Updates:
Portland: Out – C Greg Oden (knee)
Cleveland: Out – C Semih Erden (thumb)
Cleveland's Game:
The Cavs are inefficient on offense, young all around and still a long way from being a truly competitive team. With the exception of Jamison, who will presumably be dumped after his contract expires next season, the Cavs have a decent young core in Irving and Tristan Thomas. As befits a rebuilding team, beyond their few young stars, their roster mainly consists of overpriced veterans, like Jamison, and cheap young players no one else seems to want, like Mychel Thomson. They seem to play hard most nights and have compiled four wins so far this season, albeit all against teams with losing records. Unless they catch a good team napping, it is unlikely they will do more than beat their fellow bottom feeders this season, and hope that Dan Gilbert doesn't dash off another lovely email like he did when LeBron left town or when the original CP3 trade was proposed.
The Bottom Line:
Portland wins if: They play with any energy at all. Cleveland may not be as bad of a team as they were last year, but they are still miles behind the Blazers talent-wise. If Portland puts forth even a decent effort, they should cruise to a win Sunday night.
Cleveland wins if: They lead at the half. Seriously, it is hard to see the Cavs winning this one. Especially given that this is the first team they have faced all year that had a winning record last season, the best they can hope for is to remain competitive for a half.