Team Records: Portland (6-6) at Brooklyn (7-4)
Game Info: 12 PM-TV on CSNNW, Radio on 1190 AM and 102.3 FM.
Vegas Line: Brooklyn -6
Refs: TBA
The Skinny: The Blazers begin a long seven game road trip with their first ever visit to New York City's largest borough.  The new look Nets are off to a great start at home, winning all but one of their home games so far (their only loss was to Minnesota) and are looking to be serious contenders out east this season. 
Last Season: The Blazers won the only meeting last season, which took place in Portland.
Projected Nets Lineup:
PF-Kris Humphries (Minnesota-9th Season)-7.9 PPG, 8.8 RPG, .7 APG.
SF-Gerald Wallace (Alabama-12th Season)-7.3 PPG, 4 RPG, 3 APG.
C-Brook Lopez (Stanford-5th Season)-19.4 PPG, 6 RPG, .9 APG
SG-Joe Johnson (Arkansas-12th Season)-15.3 PPG, 3.6 RPG, 3.1 APG.
PG-Deron Williams (Illinois-8th Season)-16.9 PPG, 2.8 RPG, 8.2 APG.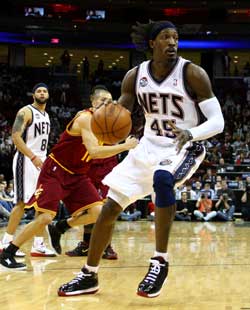 Player to Watch-Gerald Wallace (pictured at right)-It has not been the greatest start to the season for "Crash" as he has struggled both to overcome nagging ankle injuries and to produce much on offense in particular.  His scoring is down, and more than that his shooting percentage is down, he's not shooting as many FTs as he typically has and his rebounding is off his career pace.  One thing that hasn't changed, however, is his defense.  He is still a great lockdown defender and in the slow paced approach the Nets use, that's not entirely a bad thing. 
Did You Know?: Head Coach Avery Johnson holds the highest wining percentage as a head coach in NBA history (thanks to his time in Dallas).
Song of the Day: "Empire State of Mind" by Jay Z-Jay Z is, of course, a minority owner of the Nets and so it makes sense to use one of his best songs.  Enjoy:
Injury Updates:
Portland: Out-SG Elliot Williams (Achilles).
New Jersey: Out-PF Tornike Shengelia (Thumb).
New Jersey's Game:
Remember Nate McMillan's Blazer teams?  Well the Nets are pretty much like that. They are the slowest paced team in the NBA by a fairly sizable margin but are highly effective on offense, and to a lesser extent on defense.  They share the ball on offense and get open for good shots.  About the only thing they don't do well on offense is make three pointers.  On defense, they allow a decent percentage and play good defense without fouling.   The Nets do best in an ugly game and worst in a fast-paced track meet.  It will be Portland's job to make sure that the later happens Sunday.
The Bottom Line:
Portland wins if:  They score 100 points.  The Nets cannot keep up if the Blazers display their typical offensive efficiency, such as they displayed Friday night.  If they can top the century mark, Portland should find themselves above .500 come Sunday night.
New Jersey wins if: They limit Portland's 3 point effectiveness. Portland wins when they make 3 pointers, when they don't it can ugly.  If the Nets can make Portland ineffective from deep, they will win.