Game Info: 7 p.m., TV on KGW, Radio on 95.5 the Game
Vegas Line: Portland -4
Refs: Gary Zielinksi, Bennie Adams, Derek Richardson.
The Skinny: The Blazers begin their 66-game season at home with their only matchup of the year versus the Philadelphia 76ers. Portland will look to win their eleventh-straight home opener, all against different opponents. This will mark the first time Portland has opened the season with a game versus an Eastern Conference opponent since they did so versus Cleveland in the 1991-92 season, the last year they went to the NBA Finals.
Last season: The Blazers and Sixers split the season series 1-1 with both teams winning at home.
Projected Sixers Lineup (stats from last season):
PF: Elton Brand (Duke-12th Season) – 15 PPG, 8.3 RPG, 1.3 APG
SF: Andre Iguodala (Arizona-8th Season) – 14.1 PPG, 5.8 RPG, 6.3 APG
C: Spencer Hawes (Washington-5th Season) – 7.2 PPG, 5.7 RPG, 1.5 APG
SG: Jodie Meeks (Kentucky-3rd Season) – 10.5 PPG, 2.3 RPG, 1.1 APG
PG: Jrue Holiday (UCLA-3rd Season) – 14 PPG, 4 RPG, 6.5 APG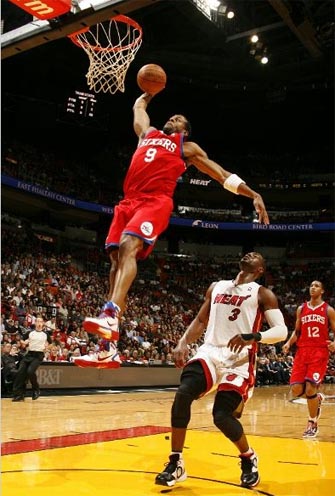 Player to Watch: Andre Iguodala (pictured below) – Iggy is of course well known, especially among Blazer fans, since he has been seen in the past as a possible trade target for the team. The past year has certainly shown why, as Iggy played probably the best basketball in his career, recording career highs in rebounding and assists and becoming the first Sixer to record back-to-back triple-doubles since Allen Iverson.
Did You Know?: Tony Battie (then with Boston) along with his brother are credited with saving Paul Pierce's life by rushing him to the hospital after a near fatal stabbing in 2000.
Injury Updates:
Portland: Out – C Greg Oden (knee); Probable – C Marcus Camby (knee)
Philadelphia: None
Philly's Game:
Looking strictly at stats, one might be fooled into thinking that the Sixers and Blazers are remarkably similar. Both are slow paced teams, their offensive and defensive efficiency are relatively similar, and they are both good rebounding teams. However, if you actually watch the teams play, the differences become apparent rather quickly. First, Philly is often inconsistent. They can go cold for stretches than even a Blazers fan would recognize as particularly bad. Second, they rely heavily on fast break points, and they are one of the best in that category in the NBA. Third and perhaps most importantly, they have a tough time closing games out. Many times last season they were in a position to win games and failed to do so. This is most likely a symptom of Philly being a young, talented team, but as yet lacking a true closer. In any case, they will not be an easy opponent for the Blazers to dispatch.
The Bottom Line:
Portland wins if: They limit Philly's assists. If Philly has a lot of assists it probably means they are knocking down lots of threes or deep twos. If you force Philly to rely primarily on iso plays, they are significantly less dangerous.
Philadelphia wins if: They are able to push the pace and get lots of fast break points. When Philly wins, they tend to get a lot of easy baskets. Doing so will be essential if they are to prevail at the Rose Garden.