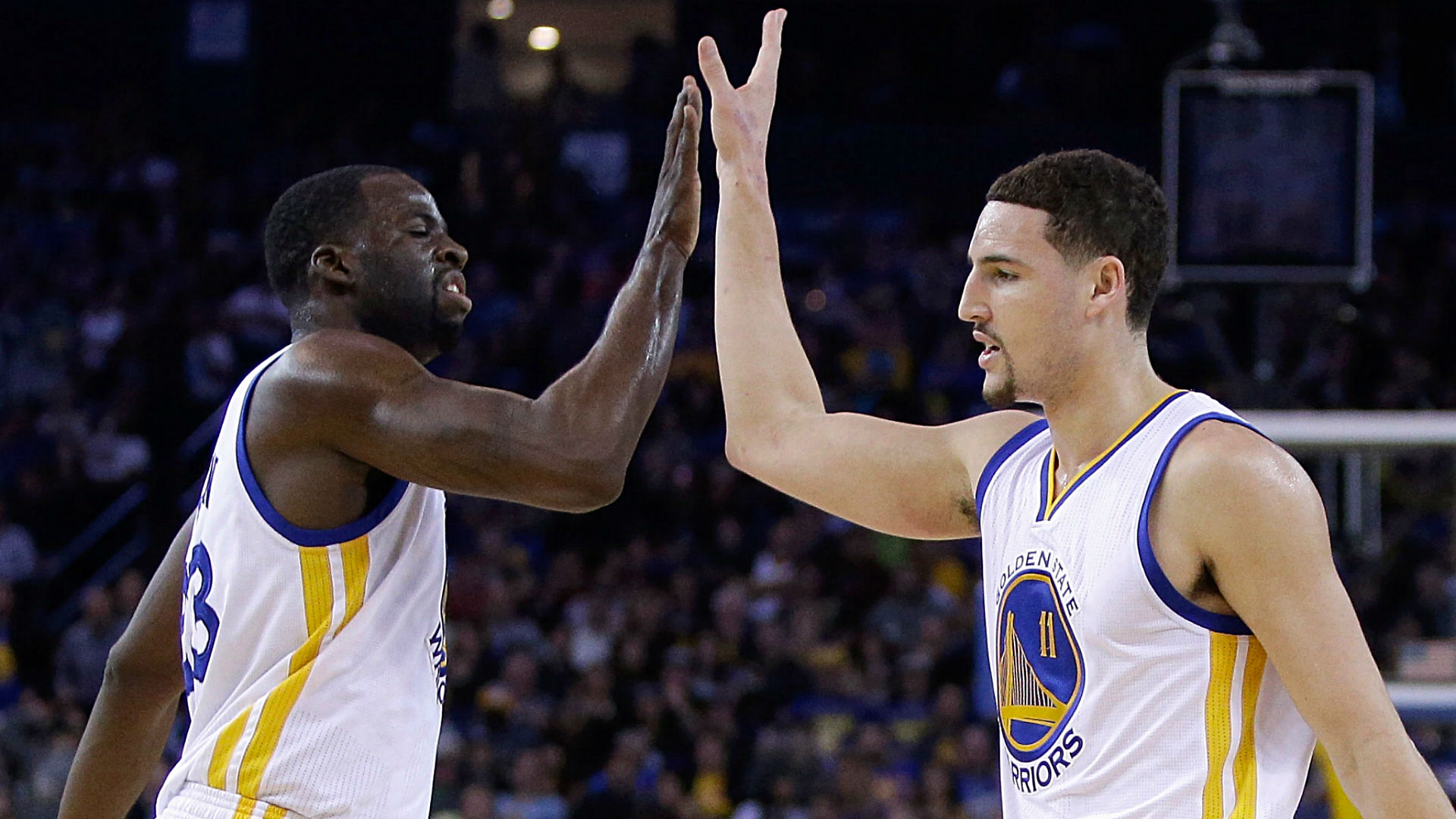 Well then. The Warriors. Greatest regular season squad in NBA history. A budding dynasty that rains fire from deep and stifles all comers down the other end. A team so complete that without the league's MVP, they can still claim to be better than all but two or three other franchises. This is what the Blazers face and I for one can't wait to see how it pans out.
The Matchups
Dame vs Livingston
This contest poses a few interesting questions, but there is really no history between these two to provide any answers. Will Livingston's length allow him to bother Dame defensively and punish him in the post on the other end? Or will Dame be able to create space and get around the slower Livington? If this series is to go beyond four games, you feel like Dame has to carry the offensive load for at least a couple of games and probably win one single-handedly. I think he can do it, though he'll likely spend some time with Iggy or Klay covering him, which would offer up all the length problems of Livingston with less cause for optimism elsewhere. Defensively, I think the threat of Livington shooting and passing over Dame in the post leads to us cross-matching much like we did against the Clippers and CP3. Harkless getting matched up on Livingston or Klay while CJ or Dame get hidden on Barnes makes too much sense not to be the first game default.
(I'm ignoring the possibility of a Steph comeback – that happens and all this discussion is moot)
CJ vs Klay
This is a matchup I hate. Klay is too big, too skilled, too good a shooter and too good defensively for me to hope for anything better than a significant disadvantage for the Blazers here. In their matchups since CJ started playing starter minutes (six games), Klay has averaged 26 on 50/50/90 shooting to CJ's 19 on 44/44/70. Thompson carved up the Rockets defense with Curry gone and barring a trademark cold streak, he should have little trouble doing the same to CJ and the Blazers. That's not to say I expect CJ to go quietly – I think he'll offer his usual well-rounded offensive repertoire, it just won't be enough to compensate for the barrage of threes that Klay will rain down upon us.
AFA vs Dray
I quite like the idea of Aminu covering Dray. On the other hand, Aminu is exactly the type of feast or famine offensive player that will allow Green the freedom to be at his roaming, wrecking-ball best on the defensive end.
Plums vs Bogues
Both guys who can play QB from the top of the key – whipping passes to cutters while offering utility as screeners and offensive garbage men. Neither will look to score as anything but a last option, so expect both to be somewhat abandoned when they have ball in hand. With our variety of small ball lineups and the Dubs effectiveness playing in that mode, I'd expect Bogut will see something like his regular season average of 20 minutes a game. Plumlee is playable against some smaller lineups and if he can carry his combination of distribution and board work over from the first round, I'd imagine Terry will keep him out there as much as he can afford to. That should allow Plumlee to have a greater total influence on the series, even if Bogut is the headier defensive player.
Hendo and the Young Uns vs Iggy and the Stooges
The Warriors have formidable depth even with Curry in a suit. Iguodala, Ezeli, Speights, Barbosa and Clark all offer something different and as complimentary as their skillsets are, the Dubs often thrive with bench heavy units out there. To compete against thair group, we'll need Hendo doing his best Kobe-lite impression and Crabbe to be knocking down the open threes Dame and CJ will create for him. Davis probably needs to play a bigger part in this series than he did against the Clippers as he is likely to be matched up with Green when the Warriors go to their Death lineup (even minus the reaper that is Curry, Livingston/Klay/Iggy.Barnes/Dray is no joke). I don't see how we can come out on top in the bench battle, but playing their mob to a draw would go a long way to creating a competitive series.
Stotts vs Kerr
Stotts should be out for revenge after being robbed of COY by Kerr. If players can't win MVP missing a quarter of the season, how does Kerr take COY after missing almost the entire first half? That aside, this is a battle of great basketball minds and watching the adjustment/counter-adjustment chess match will be fascinating. I call it a tie.
Regular season
Record: 1-3
Game 1: Warriors 128 Blazers 108
Curry, Klay and Rush (?!) combined for 82 points, the Warriors posted a 63 eFG% for the game and it was never close.
Game 2: Blazers 137 Warriors 105
Dame has a night for the ages, the supporting cast chipped in and we sent the Warriors home with their worst loss of the season. Bogut accuses the Blazers of running up the score by leaving Dame in too long.
Game 3: Warriors 128 Blazers 112
Curry and Klay combine for 71 and get the revenge required to untwist Bogut's panties. Because there is no pleaseing some people, Bogut responds by calling Dame dirty for a loose ball dive that resulted in Iggy suffering a high ankle sprain.
Game 4: Warriors 136 Blazers 111
Dame and Steph duel to 38 and 39 point outings respectively but the game is never close. Fuelled by a Dray triple double, the Dubs paste the Blazers once more, just for good measure.
Discussion
All is bleak. The Mighty Dubs conquer all before them. The regular season tally ended three blowouts to one. We have no good answer to Klay or Dray (who does) and their supporting cast is full of rock solid performers who know their roles and seem to love filling them. The experts will weigh in predicting a sweep and who can blame them? The Blazers have overachieved to such a large degree that it feels like regression to the mean will inevitably occur at some point.
Nevertheless, I just can't see this group allowing themselves to be swept. Against the Clippers, the nerves and inexperience were evident but there was an underlying pride and determination that allowed them to climb out of an 0-2 hole before injuries eased their path to victory. Curry's absence opens a small window of opportunity that I fully expect the Blazers will attempt to throw themselves through. It won't work, but I'll enjoy watching them try. Warriors in 5.