The Skinny:
Full Name: Kurt Vincent Thomas (pictured below, image courtesy of Bleacherreport.com)
Date/Place of Birth: 10/4/1972-Dallas, TX
Height/Weight-6' 9", 230 lbs
Primary Position: PF/C
Projected Role: Backup PF/C
College: TCU
NBA Draft: Drafted 10th overall by the Miami Heat in the 1995 NBA draft
Honors: None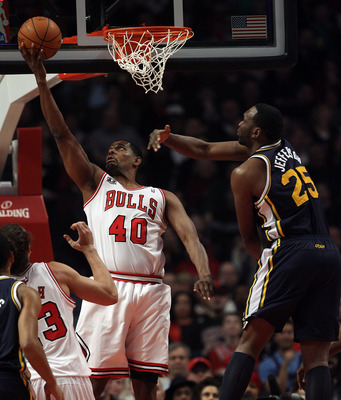 Career Averages: 8.6 PPG, 6.9 RPG, 1.1 APG, 1.2 TOPG, .8 BPG. 10/11 PER: 10.07
Kurt's Strengths:
Thomas' primary value has always been as a defender. A solid team defender, he showed he still has a good bit left in his legs when he did an effective job filling in as starting center for Chicago following an injury to Joakim Noah last year. Given that Marcus Camby has tended to miss around a quarter of the games each season, one can expect Thomas will be called upon to do the same in Portland. In addition to his defense, Thomas also possesses a decent outside shot, shooting 46% on midrange jumpers last season.
Kurt's Weaknesses:
Like Camby, Thomas is not going to attack the rim and score a lot of points. He will not draw a lot of fouls (only two centers drew fouls less frequency than him last year). He is also slow both on offense and defense, so he may struggle against quicker players. Thomas has to rely on superior positioning to be effective, especially on the defensive end.
Blazers Connections:
Kurt Thomas played with Marcus Camby for four seasons in New York.
Did You Know?:
While at TCU, Thomas led the NCAA in scoring and rebounding, becoming only the third player in history to accomplish that feat (in addition to Hank Gathers and Xavier McDaniel).
Kurt Thomas was traded by Phoenix to Seattle in 2007 along with two first round draft picks, which ended up netting Oklahoma City Serge Ibaka, among others.
While in New York, Thomas published a pair of children's coloring books that were donated to schools throughout the city.